Description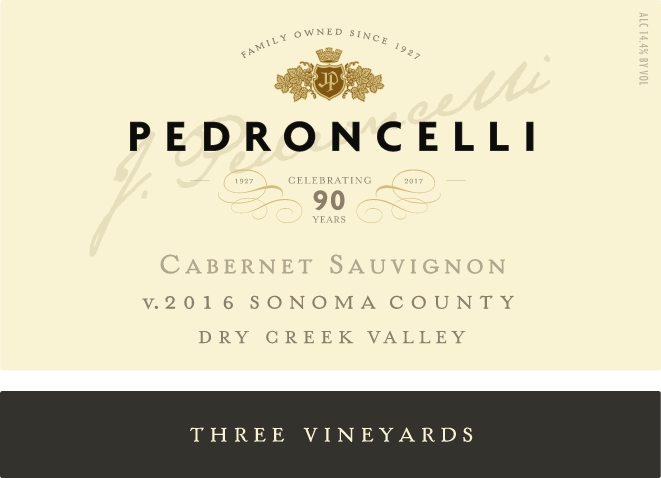 Dark red with purple tints around the edges. Aromas of dark rich berries, dried herbs and earthy tones introduce this medium bodied Cabernet Sauvignon. Mid-range tannins are supported by cherry, plum and blackberry fruit followed by hints of oregano and bay leaf. Great structure and good acidity combine with a spicy finish.
Technical Sheet for Cabernet Sauvignon 
Generic Shelftalker for Cabernet Sauvignon  

2016 "Three Vineyards" Cabernet Sauvignon - Enobytes.com - 88 Points "This is a medium-bodied crowd pleaser with aromas and flavors of blackberry jam, cherries, Coca-Cola, and vanilla. It finishes with pleasing, lingering herbaceous notes with a tinge of vanilla and smoke."
Meet Montse Reece - Winemaker (Pictured)
Pedroncelli lost a member of the winery team in 2015:
John Pedroncelli, Senior Winemaker, 1925-2015 

John began his winemaking career as a child working side by side with his father, John Sr. learning from the ground up.  After World War II and his service in the US Coast Guard, he graduated from Santa Rosa Junior College and then attended many winemaking classes at University of California at Davis.  John's style is Pedroncelli's style-wines that are flavorful and balanced to reflect the region's characteristics-he allows the wines to speak for themselves. (John - on right- pictured brother Jim)